Yesterday & today = Gister & vandag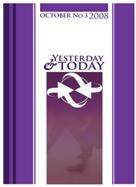 The Yesterday&Today (also formerly known as Gister & Vandag) was started in 1981. The Y&T is a journal dedicated to serve and academically stimulate the education community that teaches History and doing empirical or/and qualitative research in History teaching as well as research in any other themes related to the subject and discipline of History. In this way the improving of the teaching of History on all educational levels are promoted. The intention always is to accommodate a variety of teaching approaches or/and perspectives on the past. History's associations with, and contributions in, other disciplines are also explored. The Journal has recently received accreditation status from the Department of Education of South Africa.
For citation statistics for this journal from 2010 click here.
Educational and fair-use copying of the Yesterday & Today, for research and teaching and not for profit, is permitted. Opinions expressed or conclusions arrived at in articles and book reviews are those of the authors and are not to be regarded as those of the North-West University or the Yesterday & Today Editorial Board.
Collections in this community
Recent Submissions