Transformation in Higher Education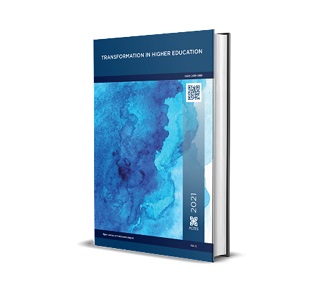 The Transformation in Higher Education is an international, transdisciplinary journal that seeks original contributions that reflect upon and theorise transformation in higher education in all its different nuances. It aims to disseminate high impact, evidence based research across disciplines in higher education that could ultimately support high level learning, teaching and research. Therefore, transdisciplinary engagements that address contemporary issues in higher education contexts will receive preference. Conceptual-philosophical and empirical works addressing matters that could lead to the intellectual advancement in higher education as discipline and context are welcomed. This journal and its publications are of interest to academics and a wide range of professionals associated with Higher Education institutions, both nationally and internationally.
Collections in this community
Recent Submissions
Background: The reconfiguration of the contemporary university as a consequence of the (re)ascendency of neoliberal politics has not escaped South African universities. The higher education landscape in the country is ...

Background: The central claim of this article is that African disability justice is possible through analysing, re-examining and reimagining realities that distort and disempower the being of individuals with disabilities. Aim: ...

Philosophy teachers owe their students a little more than mere formal instruction of topics popular in philosophy. What they owe their students is largely influenced by philosophy's claims to be a discipline that is ...

Background: The health emergency that Argentina is experiencing because of the COVID-19 pandemic radically changed institutional normality at all educational levels. Universities have certainly not escaped this logic. ...

Background: Assessment of students for ministerial practice is traditionally performed through assignments and oral examinations, which often only concentrate on the knowledge component and outcomes of the programme. ...

Background: This article explores the political impact of using gender neutral pronouns in the university classroom. Aim: We explore how the gender neutral pronoun 'they' denaturalises essentialist models of gender ...

Background: Over the last two decades it has become increasingly urgent to rethink current hurdles and opportunities for higher education, not just in the Global North, but in the effects of Northern policies globally. Aim: ...

Background: The fault lines exposed by the Coronavirus disease (COVID-19) pandemic and global economic recession unfolding during 2020 in societies around the world, reiterated the need for transforming higher education ...

Background: In the Netherlands, most of the academic curricula for teacher training in religious education (RE) focus on shortfalls of students, like a lack of knowledge about the plurality of worldviews and the diversity ...

Background: Social transformation in South Africa is a sensitive issue because of the historical realities of segregation and past injustices. Aim: To address transformation, Visual Communication Design students were ...

Background: Issues of identity, interdependence, relationality and violence are far larger than the human species alone, although humanity has often pretended as if it alone were the beneficiaries of studying such ...

Background: South Africa's institutions of higher learning are currently experiencing a dispensation in which calls for curricula transformation and decolonisation reverberate. While the need for curricula evolution is ...

Background: This article explores the increasing prevalence of security themes in higher education policy. Aim: Addressing neglect in security studies on the role of the university in the processes of securitisation, ...

Background: The role of safe spaces on university campuses for gay and lesbian students remains a contested issue. This is attributed to the fact that the visibility of these students on university campuses presents a ...

The importance of skills within the transformation of higher education is a crucial factor that has been insufficiently considered. Transformation in terms of higher education forms a fundamental part of the post-apartheid ...

In this article, we explore the term 'programme renewal' and then continue to point out why programme renewal bodes an essential topic for continuous inquiry and attention. We also highlight the importance of approaching ...

Background: The use of digital technology in higher education is overwhelmingly positively assessed in most recent research literature. While some literature indicates certain challenges in this regard, in general, the ...

Background: An era and academic milieu that clamour at post-racialist and globalist theoretical frameworks juxtaposed with evidence of growing anti-black dehumanizing racism, and the persistence of psycho-social alienation ...

Background: This article is located in the context of governments of small island developing states supporting education hubs in collaboration with local and global partners. Whilst current literature on the development ...