New Contree: 2019 No 82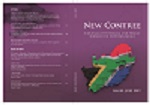 Contents
No. 82, July 2019
Articles
Book reviews
Editorial
Past organizational cultures sometimes go unnoticed, as if a natural doing and that its impact on the historical flow of managerial related doings is sometimes just thought of as just a by-the way process. The authors, having contributed to the July 2019 issue, expose very interesting histories on how, in different times and spaces, organizational structures and cultures operated and were sometimes sidestepped or politically abused towards ineffectiveness. These structures and cultures also can inevitably be linked to leadership styles and behaviour.
To depart then with organizational cultures as a thread running in different forms and shapes through history, Gregory Davids and Nosipho Blacky start the discussion with contemporary research on Governance and management challenges in establishing Robben Island as a National Museum and a World Heritage Institution in post-apartheid South Africa. The emphasis is on understanding the management and leadership challenges since about 1994. Conflicting aims between good management of museums opposing what the custodians of collective memory aspires to, seem to be a major stumbling block.
By for a brief moment turning the time clock back to 1899 it is Jaco de Bruin and André Wessels informing the reader on the legal history in "… the organization of the Orange Free State citizen force…" that operated during the South African War of 1899 - 1902. Through legislation it could be viewed to what measures government leadership has also participated. The organization of the citizen force in general, according to the authors, are viewed as having been less suitable in 1899 than when it originated decades earlier to be used in conflicts with indigenous cultural groups.
Nearly a century later, and into a contemporary space again, Tshehledi Mokgopo extensively teases out the challenges of organizational management principles for the decentralised government and the regional and local government levels in Ethiopia between 1991-1995. Mokgopo deliberates ethnicities as the biggest challenge due to the fact that Ethiopia hosts more than 80 different ethnic groups, all with their own uniqueness of culture, custom, belief and peculiar ways of doing things. He is of the opinion that Ethiopia is sitting on an ethnic time bomb and that some improved thought on organizational solutions is required to ensure equity in power sharing,distribution of resources and employment opportunities.
Back in South Africa again, another contemporary history currently still filling all platforms of social media, is state capture, which relates to unethical organizational practises of individuals through amongst other, collective doings. Rene de Klerk and Hussein Solomon explore the institutionalisation of endemic corruption in the country related specifically to the State-Owned Enterprises. The discussion boils down to the preferred implementation of best organizational practises with much to learn in this regard from countries like Hong Kong, Bulgaria and Tunisia.
The book reviews in this issue cover an interesting diversity of wars and memory to social protest in apartheid times.
Earlier in the year the New Contree Editorial Board also transformed a bit as newly nominated and elected members entered the Board for their first term of service while others resigned. The continuing members of the Board warmly welcome the following new incoming members: Prof Bizeck Jube (University of Zambia); Dr Markku Mattila (Helsinki, Finland); Prof Vivian Brickford Smith (UCT); Prof Gerald Groenewald (UJ); Dr Sean Mahiele (Post Doc-UP); Dr Alan Kirkaldy (Rhodes University) and Dr Chris Holdridge (NWU, Mafikeng Campus). Dr Vusumusi Khumalo (UFS) will be the article review editor from the December 2019 issue. The Board has not been successful so far to recruit more editors for New Contree, but this will be an ongoing aim. The Board expresses its sincere appreciation for the work behind the scenes done for several years by the following dedicated but outgoing Board members: Dr Claudia Gouws (NWU) as Technical Editor; Prof Noor Nieftagodien (Wits) and Mr Nick Southey (UNISA). Most surely their dedication and contribution in ensuring quality published articles will be missed.
As always, readers of the New Contree are reminded that a request to lead a supplementary issue covering a specific theme and fitting in the vision of the Journal, is more than welcome and should be timely communicated with the Editorial Board.
Recent Submissions